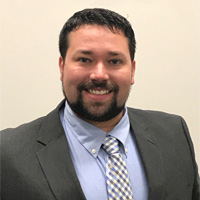 Jared Garbett - Agent in Carthage, NC
---
Street Address
101 N Ray Street
Carthage, NC 28327
Office Phone: 910-947-2295
Mobile: 910-290-0044
About Jared Garbett
---
Our lives are full of choices, and from time to time, we could all use a little help deciding which choice is best. It is my goal to learn your story and help you choose the insurance products that best suit the needs of you and your family. Please give me a call or stop by the office so we can work together to protect you and your family from the unexpected.
Accomplishments
Proud Husband and Father.
Member of the Southern Pines Elks Lodge.
Sunday School Teacher Brownson Memorial Presbyterian Church.
Volunteer Coach for Special Olympics of North Carolina.
Education
Bachelors Degree in Business Administration from Campbell University
Class A PGA Certification